Hannah Wallenkamp collaborates with UW-CTRI at Group Health Cooperative of South Central Wisconsin (GHC) as a second Tobacco Cessation Outreach Specialist (TCOS) working full time as part of a population-health study led by UW-CTRI.
It's funded by the R35 Outstanding Investigator Grant from the National Cancer Institute to UW-CTRI Director Dr. Michael Fiore.
Wallenkamp has been reaching out via telephone to GHC patients who smoke, motivating them to quit smoking and helping them to succeed. She's serving the third largest clinic in the GHC system and will gain two more clinics by the end of the year; those three clinics have a combined 2,600 smokers.
The Evidence-Based Tobacco Cessation Population Health Program is designed to facilitate the delivery of quit-smoking treatment during outpatient clinic visits.
It also offers chronic-care management for all patients who smoke, provided by Wallenkamp. She reaches out:
Three times to patients who are making a quit attempt.
At least once to patients attempting to reduce their smoking, with potential ongoing support calls as requested.
To clinic patients within a week of a clinic visit in which they didn't set a quit date, to gauge willingness to quit at that time.
At least annually to all GHC patients identified as smokers, with an invitation to receive cessation help, even if they don't visit the clinic.
She coordinates efforts with UW-CTRI Researcher Mark Zehner, lead staff person on R35.
Originally from Milwaukee, Wallenkamp earned her undergraduate degree in Public Health-Community Health Education from the University of Wisconsin-La Crosse. In her final semester of school, she completed an internship at ProHealth Care in Waukesha, Wisconsin. In the Community Education/Benefit department at ProHealth Care, Wallenkamp was able to interact with patients and other individuals in the community, which has helped her prepare for her current role at GHC.
Since graduating, she became a Certified Health Education Specialist. Additionally, Wallenkamp completed Tobacco Treatment Specialist training in June at the University of Massachusetts Medical School.
"I'm excited to be a part of the Group Health Cooperative team," she said, "as well as here at UW-CTRI, to help individuals take steps to create a healthier future."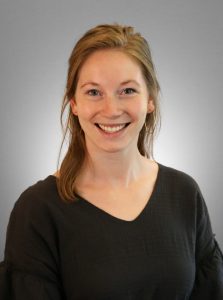 Hannah Wallenkamp