Dr. Maggie Nolan has fit in well during her three-month rotation at UW-CTRI. That's no surprise, because the UW preventive medicine resident (PGY3) and physician in training is interested in tobacco control and supported by a grant from the American Cancer Society for cancer prevention.
It's Nolan's second stint at UW-CTRI. Last year, as part of the R35 grant, Nolan made counseling phone calls to GHC patients who smoke—and hadn't been to the doctor in the last year—to offer resources to help them quit tobacco use.
During the current rotation, Nolan has been conducting a sub-analysis of data from the project, as well as a descriptive study of a subgroup. UW-CTRI Director of Biostatistical Operations Dr. Stevens Smith helped set up the data, and Nolan has partnered with UW-CTRI Associate Director of Research Dr. Danielle McCarthy and Biostatistical Analyst Deejay Zwaga to analyze it.
Nolan said that, when she, Hannah Wallenkamp, and Katherine Coates called patients who smoked, the patients were actually much more willing to try to quit smoking than anticipated.
Nolan, a graduate of Princeton, Harvard, and the University of Chicago Pritzker School of Medicine, has also shadowed UW-CTRI Director Dr. Michael Fiore and UW-CTRI Associate Director of Research Dr. Megan Piper during their efforts to educate legislators on tobacco-related topics at the state Capitol.
"I'm appreciative of Mike allowing me to come here and try it out," Nolan said. "It has been a tremendous experience."
"Dr. Nolan has been a wonderful addition to the UW-CTRI enterprise," Fiore said. "She's knowledgeable about tobacco research issues, trained as a prevention physician, and is committed to patient care. It has been a pleasure to have her with us."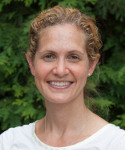 Maggie Nolan, PGY3