UW-CTRI Published Research (1992 to the present)
This includes select preprints. Publications are listed chronologically by tobacco topic.
This is an accordion element with a series of buttons that open and close related content panels.
Behavioral Health & Community-Based Research
Cancer & Tobacco Use
Cardiology & Tobacco Use
Cessation
Dementia & Tobacco Use
Dependence/ Withdrawal/ Relapse/ Biology
E-cigarettes and Vaping
Epilepsy and Smoking
Genetics
Gender
Guideline
Managed Care, EHR, Systems Change, Insurance
Military
Pediatrics & Smoking
Pharmacy & Tobacco
Pharmacotherapy
Policy
Prison Smoking
Racial Disparities
Research Strategies
Rheumatoid Arthritis
Smokeless Tobacco & Nicotine Products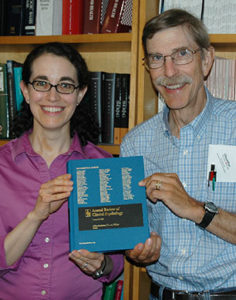 Researchers Drs. Tanya Schlam and Tim Baker display a copy of the Annual Review of Clinical Psychology, which included their article.