UW-CTRI is partnering with community leaders in Wisconsin on a project to reduce smoking among African Americans in Milwaukee. Wisconsin has the worst disparity of smoking between whites (12%) and Blacks (30%) of any state in America.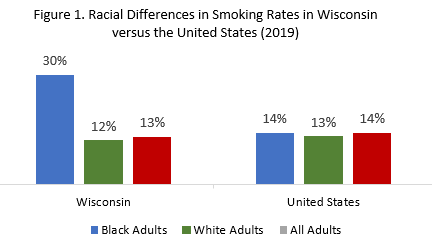 The team received a $100,000 pilot award known as a UW Stakeholder and Patient Engagement Research (SPER) grant. The project is called "Reducing Racial Disparities in Smoking: The Milwaukee Collaboration." Milwaukee County is home to more than 240,000 people who identify as African American, representing 69 percent of Black people in Wisconsin, making it the ideal location to start this focused work.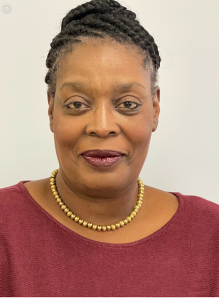 Importantly, a Community Advisory Board (CAB) comprised of African American residents from Milwaukee and other leaders will guide the proposed research. UW-CTRI is collaborating with the Wisconsin African American Tobacco Prevention Network (WAATPN), the Wisconsin Department of Health Services and Wisconsin Women's Health Foundation on this project. Lorraine Lathen (right), long-time collaborator with UW-CTRI and Director of WAATPN, is co-chairing the CAB and leading its development.
"Great gains have been achieved in reducing tobacco use and exposure to secondhand smoke," Lathen said. "Unfortunately, these gains have not been equally experienced in communities where people of color live, work, learn and play."
So the research team from UW-CTRI and the CAB will work together to identify different outreach strategies to promote engagement with a suite of smoking cessation interventions. Potential outreach strategies under consideration include a social media strategy, a healthcare system strategy, and a community-based strategy. Potential cessation interventions that have explicitly been shown to be effective for African American adults who smoke will be identified in the scientific literature. Promising interventions and outreach strategies will be presented to focus groups for their feedback. Based on feedback from the focus groups, the CAB will select three final strategies based on their likelihood of maximizing population reach and engagement. These will form a suite of interventions that will be offered.
"Unlike much of our prior research at UW-CTRI, which has been led by scientists who have identified key scientific questions and the appropriate methods to study them, this research is going to be led by community members," said Principal Investigator and UW-CTRI Research Director Dr. Megan Piper. "In this research project, the community members will decide which outcomes are important and which interventions and strategies we will test. This type of community-engaged research helps ensure that the findings can be more easily translated into real-world changes."
The research team and CAB will work together to use the results of this project to develop an application for a Patient-Centered Outcomes Research Institute (PCORI) comparative effectiveness trial.
Key participants in the project include Piper and Lathen; Michael Campbell from WAATPN; Vicki Huntington and Keri Schneider from the Wisconsin Tobacco Prevention and Control Program; Krissy Alaniz from the Wisconsin Women's Health Foundation; Dr. Adrienne Johnson, Dr. Danielle McCarthy, Karen Conner, Rob Adsit, Allison Gorrilla and Chris Hollenback from UW-CTRI. The team will also identify three community leaders and three community members with lived experience with smoking to be part of the CAB.
"The final goal is to partner with the CAB and Milwaukee community leaders to disseminate strategies to help African Americans quit smoking in a way that is productive and sustainable," Piper said. "We are honored and excited to listen to and learn from our esteemed community advisors, and partner to help make their vision come to life—a vision with less death and disease caused by tobacco use among African Americans."
"'Reducing Racial Disparities in Smoking: the Milwaukee Collaborative,' is an important partnership for the Wisconsin African American Tobacco Prevention Network," Lathen said. "It helps to advance our mission in addressing Milwaukee's tobacco-related disparities, by involving the impacted community at all phases of the project–from the identification of effective smoking cessation strategies to message development, project implementation and, eventually, project evaluation."